ETH continues to fall to relative lows, sitting now at $405 after briefly breaking below $400 overnight.
I think ETH remains around $400 today before a rebound starts tomorrow/this weekend.  However, a lot of that depends on the price of Bitcoin – a fact I haven't properly expressed or explored.
Bitcoin and Ethereum Move Together?
Intra-day movements are often extremely similar between BTC and ETH, as you can see below:


While these charts look identical, if you look at the ETH/BTC ratio, ETH performed worse than BTC, despite following the same pattern –

For ETH holders, watching this ratio fall back into the .05 range has… not been fun.  Since the peak of $1400 on January 13th, BTC has outperformed ETH significantly, with the ratio moving from .09 to .054.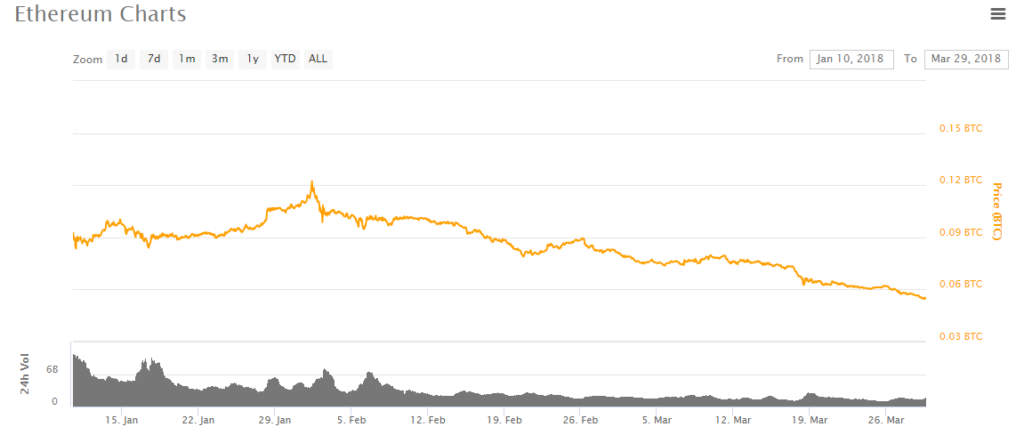 So while the price direction is often highly correlated, the ratio has actually been quite volatile.
Zooming out on the ETH/BTC ratio since the beginning of 2017 you can see just how much fluctuation there has been –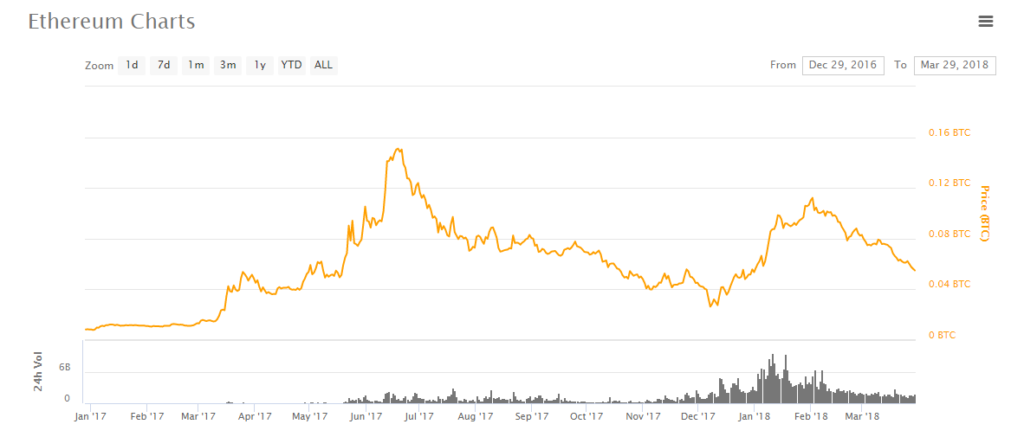 Now overlaying this graph with the price of ETH (green line), the big price increases throughout the past year have often coincided with big gains on the ETH/BTC ratio.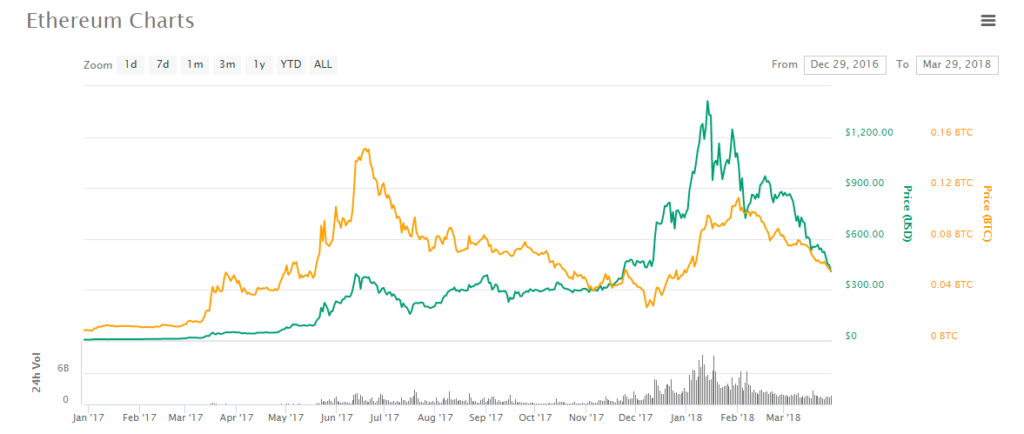 The price movements between BTC and ETH are highly correlated the majority of the time, until they diverge greatly. 
I expect that the next ETH run up will take place between late April – June.  I also expect ETH to outperform BTC significantly on the ratio, getting back to .1 at a minimum.
Longer term, over the course of 1-2 years, I see the ratio reaching .2 and beyond.
So, what happens if Bitcoin falls right now?
ETH, in turn, would drop lower as well – however, I think we're close to reaching a bounce point for the ratio.  If both BTC and ETH continue down, I think we'll hit a bottom on the ratio of .05, before ETH starts gaining.
I think there's an imbalance right now between BTC/ETH which will play out positively for ETH over the course of 2018.